Reading, writing and arithmetic…oh the joy of young learning. I still love to read…not so fond of all the other any more; however I still like to learn new things. Reading takes me to places I have never been, it makes my dreams come true, and lets my imagination run with the wind. I become the character in the book, taking on their adventures as my own…living their life, feeling their pains and triumphs. I scale high mountains, fly above the clouds, live in a different time and place, sail the ocean blue and walk an unknown path. I earn about different cultures; rights and wrongs, about faith, love, and forgiveness.
Jump into your own adventure through a good book. Just take a few minutes at night before lights out and you'll even sleep better too. Join me in this promise: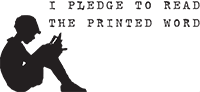 Start reading a book today!
18/30 Today I am grateful for the printed word.
Take a glance at my bookshelf on my sidebar for reading suggestions.